Join 70.000 other female leaders and find your dream career in companies that have Diversity, Equity & Inclusion as their priority.
The benefits of joining our network
Whenever you apply for a job, you never know exactly where you will end up. Even though diversity & inclusion is a hot topic today, many companies struggle with actually implementing it.
This is understandable; we have to acknowledge that we are in transition. However, having clarity about where a company stands when it comes to DE&I is extremely valuable before you apply.
As we, as does science, believe that having more female leaders will allow companies to perform better, as well as lead to a better world, we decided to bring the best of both worlds together. This requires the fostering of Female Leaders like you AND companies that are open to authentic leadership by women, while being transparent about where they stand now.
Receive relevant vacancies in your inbox & on social media every Monday!
Are you a New Female Leader?
You are a New Female Leader when you are aware of and connected with your values. You do not (want to) adapt to the stereotypical idea of leadership, nor to that of womanhood. You want to lead and add value authentically.
You have several years of working (and leadership) experience. You are ambitious, and want to make an impact from your connected self.

You believe in the value of diverse and inclusive teams, you spread the word about equal opportunities and you lead yourself and others by example.
We deeply believe that more authentic female leaders will lead to better organizational performance, organizational culture and a better world.
What kind of jobs will you find on our platform?
You don't have to be a board member or a director to join our New Female Leader network. We bring together women who already have experience in leading teams as well as female leaders who have the ambition to do so.
You will find career opportunities for management roles like Social Media Manager, HR Manager, Customer Success Lead, Marketing Director, Sales Manager, Director of a foundation, Brand Manager or COO for a start-up. We see the word leader in the broadest sense of the word. Don't we all lead ourselves every day?
We have a very broad network of female leaders in all industries, and we aim to share jobs in all industries. We combine interesting career opportunities within corporates, start-ups, scale-ups and non-profits.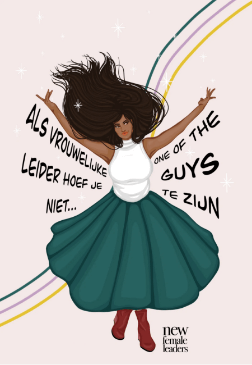 As a New Female Leader, you don't have to be one of the guys.
What our partners say about us
Bold and progressive
Eline Leuten

New Female Leaders is exactly the type of initiative that the Netherlands has been waiting for. In these times – with our Earth under pressure, increasing segregation and economic inequality between groups within our society – I feel that we need a new leadership style, based on caring for each other rather than on ego, and on making a contribution rather than purely on making money. This is where female leadership becomes of crucial importance and deserves our full attention. Openhearted, in-depth interviews with women who forge their own ways, go against the current – and in doing so change the world and our view on leadership.
A contribution to society
Nina Piersen

Great content for all women who wish to become inspired. The world needs more female leaders (or men who employ their female leadership skills). New Female Leaders offers a wide range of female role models who – each in their own way – make a fantastic contribution to our society.
Refreshing and unique
Janneke Niesen

New Female Leaders is a refreshing podcast that offers a lot of inspiration. It contains practical tips and insight into how the various women approach their career. Every conversation offers something that will be of use to you.
Authentic leadership as a woman
Both reality and science have taught us that it is much harder for women to lead authentically, as a result of the stereotypical ideas our society still holds with regards to what defines a "good leader" and a "good woman". This is the so-called double-bind dilemma.
Yet, we know from more than 130+ interviews with female leaders that it IS possible to lead authentically, regardless of the context you work in.
With our 3C model, we support female leaders like you in their daily journey towards making an authentic impact in the organizations they work in.
We truly want to make an impact
New Female Leaders is a Social Enterprise. We donate 30% of our profits to our foundation, which will then invest back in female entrepreneurs.

Our conclusion of 3,5 years research is that "female" leadership does not exist. We believe it's all about authentic leadership and an authentic balance between masculine and feminine leadership skills. By connecting companies like you who acknowledge the value of DE&I and our network of New Female Leaders, we want to contribute to fast forwarding the gender equality transition.

You can find more about our vision in our book new Female Leader.
Do you want to develop yourself as an authentic leader?
It is our mission to support you in leading from, and being connected with, your own values, no matter the context you are in. We know this is not (always) easy, and have therefore we developed our leadership program The Accelerator for women like you.
Do you dream of being the woman that you really are? Of confidently leading from connection, freedom and consciousness, based on your personal values? Of using your qualities to make an impact and make the world a little bit better?
And do you want to have a network of female leaders who are just as ambitious and focused on connection as you are? Do you want to be inspired by role models and become a role model yourself? And on top of that, would you like to be coached by the best Executive coaches in the Netherlands?
Schedule a discovery call and learn more about our leadership program!